Tom Vienna - Guitar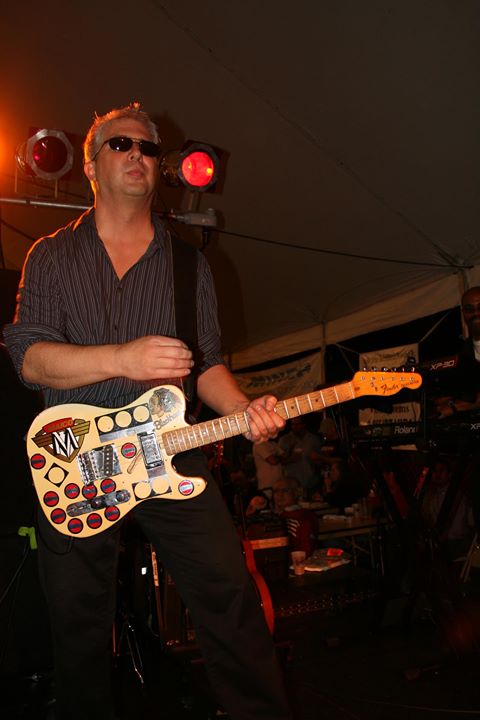 For Tom Vienna, music started with The Beatles. "I remember seeing The Beatles on the Ed Sullivan show for the first time in 1964". This was a significant event for Tom and people his age. "Everyone remembers those typical conversation topics from the sixties. Where were you when Kennedy was shot, when the Beatles first performed in America, and when the US landed on the moon? I remember watching The Beatles that first Sunday evening in 1964 with several of my cousins and soaking in the reaction of the family and the country. Whatever the reaction, one thing was for sure. It was the biggest buzz I had ever witnessed, even to this day". This type of an event can make quite an impression on a five year old kid. Tom said "I remember saying to myself, yep that's what I want to do. Play one of those gadgets like the Beatles. As Mark Knopfler wrote twenty years later, 'Money for Nothin, Chicks for free'. Those two ideas were the furthest from my mind, but playing music certainly seemed like an easy gig to me." It became Tom's passion.
Tom started in music like most Chicago suburban kids did in the 60s being thrown into the school band, playing trombone in the fourth grade. "This wasn't exactly the gadget (instrument) I was looking for." recalls Tom. "With The Beatles growing into premiere song writers and releasing things like Sgt. Peppers and the White album, I remember listening to Paul McCartney's incredible bass lines and Ringo Star's new drum style on Sgt. Peppers and telling my folks 'Mom, Dad, I want to play drums'." Tom's folks being practical sensible parents replied, 'how about guitar lessons' thinking the volume could be more easily controlled. In those days, Tom's sister became his largest resource of musical information. "My sister is five years older and was in college. Can you imagine having some one come home during school breaks and bring you back albums to listen to like Woodstock, Who's Next, Santana Abraxas, Led Zeppelin II and Yes Fragile?" It was like the movie 'Almost Famous'. She'd come home and hand me a stash of records and say just like the actress, 'listen to these and it will change your life'. It did. In my mind 1970 and that era was the most influential time for Rock n Roll and musicians. So many great classic rock albums and great musicians came from that year and my sister definitely kept me on top of things."
Within that period of music is where Tom faced his crossroads. "I had been that typical young guitar player listening to Jimmy Page, Black Sabbath, and learning anything that had cool distorted guitar rifts. Then I came across this silver album called 'Chicago'. It was actually Chicago's second album and it just blew me away. Wow, what a concept. The guitar player Terry Kath and the bass were playing separate parts." Tom lights up, "Kath, hands down is my biggest influence as a guitar player. In my opinion he was the most innovative versatile guitar player on the planet. I had the privilege to see Terry Kath and the experimental Chicago several times in the early seventies. I've always felt that if I can capture twenty five percent of the energy, passion, and musicianship that that man had in his first thirty years, then I feel I have accomplished something as a musician."
Kath certainly took Tom into a different direction. Tom began to listen to rock n roll that had more harmonic textures. "Steely Dan records, Jeff Beck, Carlos Santana, and the Eagles" Tom names a few. "For some players it can be viewed as the lighter side of rock n roll, but for me it allowed my guitar solos to open up more and take them to a new level".
Now with Tom old enough to hit the local scene, unfortunately, music was changing dramatically. "I was in several rock n roll bands in high school and doing club work. By the time I turned eighteen Disco was hitting the nation, then punk and then the video age of the eighties. I felt that someone had taken rock n roll out of the musician's hand and had given it to the entertainer". This was hard for Tom to swallow and it took him down a path that ended up giving him a lot of versatility in music. "I figured if Chicago became a pop band by 1975 to survive, I had to do the same thing and adapt". Tom learned his early R&B and soul influences from a local band named Together and realized that for some people The Beatles were not the root of all music. "I felt some one had dropped me into a time warp and I was learning songs from the Temptations, Earth, Wind and Fire, and the Commodores. It was all great stuff and in my mind it allowed me to continue to strum clean chords and play blistering rock n roll leads instead of just hitting distorted power chords all night. The senior members of Together certainly painted a new color in my playing style, which also led me to learn and play keyboards along with the guitar. Stevie Wonder was a huge influence in those days, as an overall musician, song writer, and keyboard player".
Over the years Tom looked to form the ultimate band that could play rock, funk, pop, alternative, and soul. Tom went back and forth in many bands trying to capture that goal. "I was in a high school band that eventually became Mammoth. Then after Together there was Abbey Road, In the Pocket, Out of Time, Concrete Suits, and Crushed. Out of Time had a pretty good run." Tom recalls. "We were together for seven years Eddie Puente (drummer) and I were in a few of those bands together. Eddie possesses the same musical ability and versatility that I have and helped make of few of the rock bands that we played in together soulful. However, we never made it happen with horns" one of Tom's dreams. Tom also states, "I really like the newer material as well. It has become homogenized to some degree, but the alternative and grunge rock wave in the 90s completely revitalized me as a performing guitar player. I have to list Red Hot Chili Peppers, Spin Doctors, Nirvana, and STP as bringing live music back without drum machines and synthesized bass. To me there is nothing more magical than a great drummer, bass player, and guitar player, interacting and locking down a groove. Strong players interacting can take music to any level they want". I've been on several recordings and have written a few tunes here or there, but good musicianship and live music is what gets me going".
TimePeace is Tom's new passion. Tom and Robby Celestin have known each other for years and can be found together on Robby's solo CD "Every Little Thing". Tom recalls, "At times he and I ran in the same circles because of my Together days. I also know Rob's father. I am someone that fell between his family generations." Robby and Tom had always hit it off and had premonitions of playing in a band together. Tom chuckles "We still laugh about it after an exhausting show. Rob leans over and says 'So, we're in a band together?'. It took fifteen years to finally make it happen and now we never quite find the time to savor the moment, yet the memories will continue to build.
Tom fondly states, "I love all the members in TimePeace. I'm excited to be part of the act. They are (we are) one of the best bands in the area and their R&B/Variety professional style has help me fulfill my wide musical appetite. I still play in a rock band and have conceded that possibly two bands are the answer, but TimePeace covers all the other rock n roll flavors along with the Funk and R&B. I'm very happy to be part of the TimePeace family. Each member shares the same passion and energy I have for music and I'm very excited about that".
Tom's show is definitely a whirlwind to behold. He can be seen playing as many as four guitars on stage creating one of the most diverse musical shows in the region. He virtually glides through different styles and adds a unique twist to every solo he performs. His fantastic musicianship and talents have enhanced the talents of the group and continues to please audiences and fans of any genre. He has even lent his background vocal abilities to the show and it's only a matter of time before Silky convinces him to share a keyboard line addding another twist to the group. His appetite for different musical experiences will continue to take Tom to unique and impressive areas. It's a journey we can all enjoy.